Until further notice, all on-campus gatherings have been suspended. Please connect with us through our Daily Encouragement page, Facebook, and Instagram for updates, ministry opportunities, devotions, and worship! The church is not a building, it's a body of believers!
**Clarkston Outreach Event Postponed**
Due to the current nationwide health situation, the April 18 Women on Mission outreach event to international refugees in Clarkston, GA, has been postponed indefinitely. First Baptist groups that were collecting food items for the moms' and kids' gift bags are encouraged to find alternative donation outlets, such as Feed the Hungry, for food packages which have early expiration dates. WOM Director Nancy Brock asks the First Baptist congregation to continue to identify items for donation including household goods, and clothing and shoes in good condition, to be collected at a later date, as the outreach effort will continue once the health situation is resolved. In the meantime, WOM has provided a large cash donation to the Clarkston ministry to provide food and other essential needs to the refugees, many of whom are currently experiencing high anxiety levels because of the current worldwide pandemic. WOM greatly appreciates the congregation's support of this ongoing ministry.
Who We Are
WOMEN ON MISSION have a passion for missions. We meet the second Monday of each month at 11:30 in the Ministry Center. Each month a special speaker is invited to share with us his/her time of ministry on the field, whether it be overseas or here in the United States. We have heard speakers from Russia, Albania, Turkey, Peru, Honduras, Tanzania, and many other places around the globe, as well as representatives from the ministry to refugees in Clarkston, GA, Out of Darkness Ministry in Atlanta, Voice of the Martyrs, and many other U.S.-based mission groups. We each receive a blessing from hearing the testimonies of these speakers. Often we learn of ways we can be involved in reaching out to the lost through these ministries.
March Update
If you love God and have a relationship with Him, you have a responsibility to serve others." That was the lesson Pamela Smith learned in her childhood from her mother's ministry and that was confirmed over and over throughout her own mission service, she told First Baptist Women on Mission at their monthly meeting on March 9. Dr. Smith, a noted author and teacher, served with the International Mission Board in Jordan and with the North American Mission Board in Montana and Pennsylvania. She also served with local church, state convention, and national Baptist agencies in Virginia and Alabama.
Living in Jordan, the land of the Old Testament, Dr. Smith said she worked with women and girls for whom God was so distant. They knew Jesus the person but did not know that God is love. In Jordan she learned cultural norms that allowed her to step over the barriers and tell these young women – the first generation of Jordanian girls to be educated beyond fourth grade – the good news of God's love. This experience served her well when she later served in Richmond, VA, as leader of the 2-year journeyman missionary program and as state Acteens director.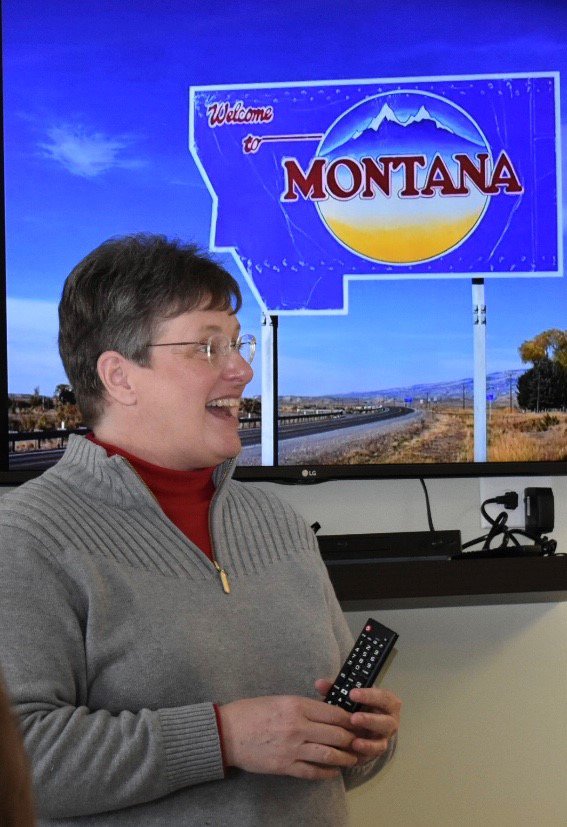 Dr. Smith said she had desired since childhood to serve as a missionary overseas, even applying for a position in Nigeria but winding up as a student consultant for the national Women's Missionary Union. That experience led her to Montana as a church planting catalyst and state WMU director in Billings, where she literally lived at the office. Upon arrival, she found Montana to be almost a "foreign" place, with a pastor friend and mentor telling her "We are not like you." He noted that in the South of her childhood and life experience the community's culture developed around the local church; in Montana, he said, it developed around the local saloon. Montanans, she found, were first-generation believers "living in the book of Acts" and her calling there was "like working on a foreign mission field." God, she said, gave her her foreign mission field – "her heart's desire" – in the continental United States and put "Paul" (the mentoring pastor) there to help her. She shared many experiences of how God brought people in Montana to her so that she could share with them the Gospel message.
Dr. Smith now lives again in her hometown of Easley, SC, where she cares for her elderly parents and serves as her church's WMU director and as a leadership development strategist for the state WMU.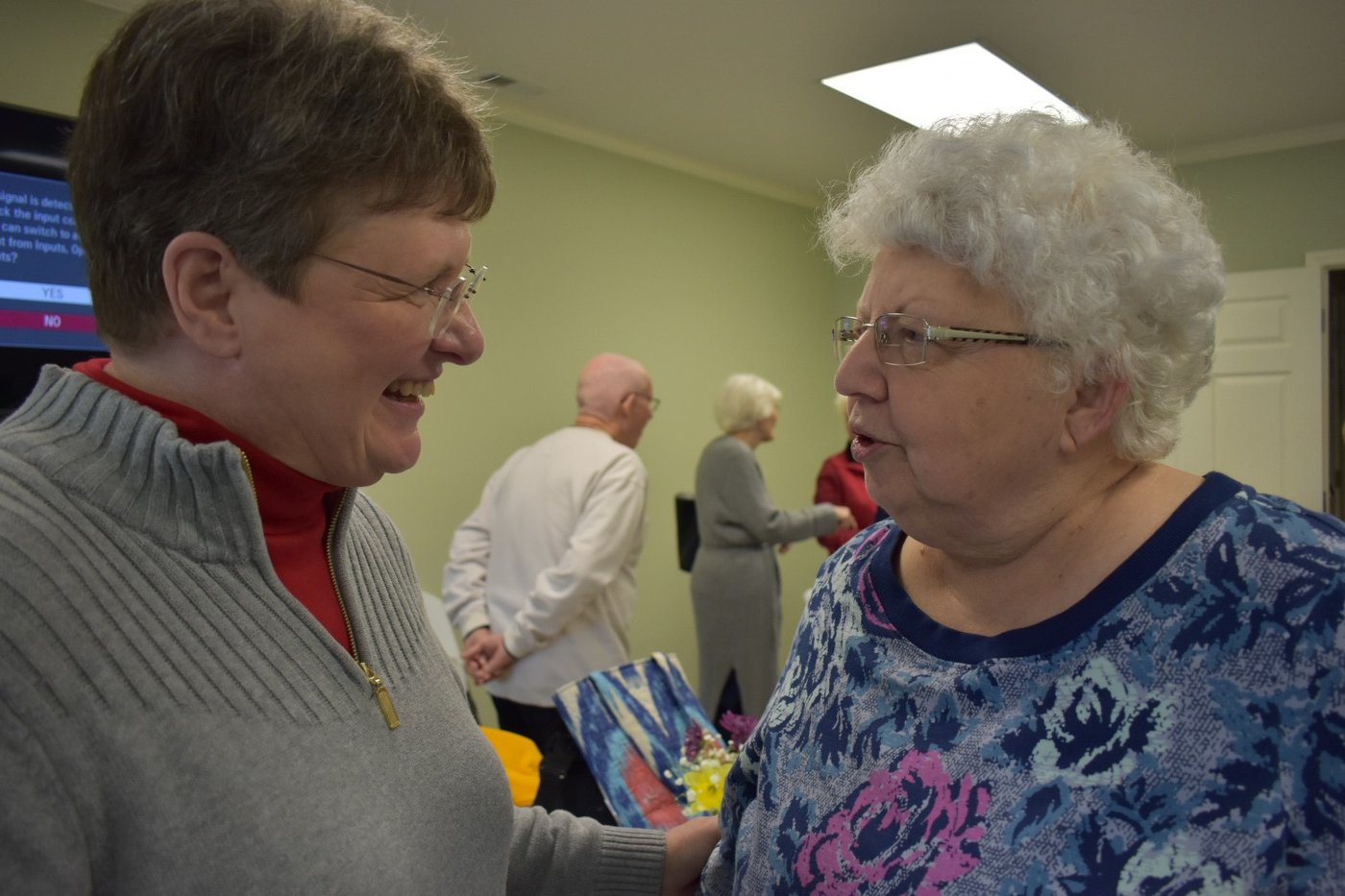 Coming in April
On April 13, campus ministers Rick and Cindy Jenkins will speak to WOM at monthly meeting at 11:30 a.m. in the First Baptist Ministry Center. Rick is a nephew of WOM and First Baptist member Marilyn Thomason. The Jenkinses served 24 years with the International Mission Board, first in Guadalajara, Mexico, later in Barbados, and finally in Panama. Throughout their ministry, Rick and Cindy focused on reaching college-level students in the Americas with the Gospel and on connecting mission-minded students from the United States with places to serve from Mexico to Chile. Rick now serves as campus missionary to Columbus State University and LaGrange College in Georgia. Both Rick and Cindy are Georgia natives and met at North Georgia College. They have three children who live in east Tennessee: Patrick, Derrick, and Callie.
WOM Send Six To Camp Pinnacle
First Baptist Women on Mission are providing six scholarships for Camp Pinnacle this summer. Owned and operated by the Baptist Woman's Missionary Union of Georgia, Camp Pinnacle is Georgia's only missions-focused camp for girls whose sole purpose is to create an environment where girls can experience God.
Torrance Cannaverde, Isabella Franetic and Gracie Miller will attend a full week of camp. Camps for grades K-12 run from Memorial Day through the middle of July. Montana Tincher and her daughters Lelah and Lindsey will participate in the "Mom and Me" overnight session.
Camp Pinnacle, which is nationally accredited, served 630 girls last summer. Each year the camp creates a cultural experience which allows campers to see what life is like for those on whom mission efforts are focused. Last summer, the campers learned what it was like to be a refugee and interacted with the refugee ministry through Clarkston International Baptist Church.
Ongoing Activities
In cooperation with the Atlanta Dream Center, WOM are writing messages of encouragement that can be handed out to young women who are being trafficked in Atlanta. WOM also supports Hope House of Union County by collecting personal hygiene items such as shampoo, body wash, deodorant, etc., which are distributed free of charge to Hope House clients. Through offerings collected monthly and budget funding from First Baptist, WOM are supporting the following ministries:
Cowboy Church of Jerusalem to purchase food and new boots.
Pure Love Pure Water for more filters to be sent to missionaries.
The Clarkston After-School Ministry, which provides a meal for the children and to purchase supplies for the children.
Missionaries Troy and Jeana Nicholson, whose home in Albania was damaged in a December earthquake.
Be a part of WOM
WOM supports a different missionary each year by sending them a monthly love gift. We also save and collect our loose pocket change to provide water filters for missionaries who do not have access to potable water. Periodically, we provide toiletry items which Hope House of Blairsville can share with its clients. As the Lord leads, we engage in projects which help missionaries or reach out to the lost. In all that we do, we aim to bring glory to our Lord and Savior, Jesus Christ.
We encourage you to come and join us on the second Monday of any given month. Participation is open to ALL women — young, old, or in between.
If you have questions, feel free to contact Nancy Brock at untilhisreturn@gmail.com or 706-781-6358 for further information.