September Update
Missionary Taylor Irby said the theme of her service overseas has been "He is with us. He is for us. We will follow Him" when she spoke to First Baptist's Women on Mission on Sept. 13. As a 15-year-old freshman in high school, Taylor felt God calling her to someday serve as a missionary overseas and she committed her life to Him. She and husband Josh met during her first year of teaching. Five months before they were to move to the Bosnian capital of Sarajevo, Josh seriously injured his leg and underwent surgery.
Josh had learned that Miss Irby, who left England to go to Sarajevo in the 1800s and was a hero to the people there, was a distant cousin. He wrote a book about her calling to serve God in Sarajevo and his and Taylor's calling. The book became an instant success in Bosnia, enabling him to interact and witness to many people in their area, where there are more mosques than Christians. Taylor said it is very difficult to witness to the Bosnian people because of their memories of the war with Serbia and Croatia. Bosnia, which is mainly Muslim, was bombed daily with by people who called themselves Christians. That first year in Sarajevo, Taylor said seven people came to faith in Jesus Christ, but within a year all seven had walked away from their new faith.
Taylor shared some of the struggles she had in the early years of their ministry. Having to be at home with four children caused her to struggle concerning her place on their team until the Lord helped her see that her real place was to be dependent on the Lord. Taylor eventually was able to help high school students with art classes, Bible studies and other areas. One of the hardest things for her was in 2018 when her mother was diagnosed with terminal cancer and she was separated from her loved one. But during that experience, she was surrounded by her Christian community who loved and supported her.
When the coronavirus pandemic hit, the Irbys were forced to consider leaving Bosnia and returning to the United States as their youngest son, Isaac, whom they adopted from Bulgaria, had many health issues which would have been extremely dangerous for him should he contract covid. While leaving Bosnia and the people they love so much was one of the hardest things to do, Taylor and Josh both felt that God was leading them to do just that. They are currently living in Decatur, GA, where they are with CRU (formerly Campus Crusade for Christ). Taylor does coaching and training (mostly online) for missionaries and hurting families all over the world. The Irbys hope to go back to Sarajevo in March of 2022 to conduct a training seminar.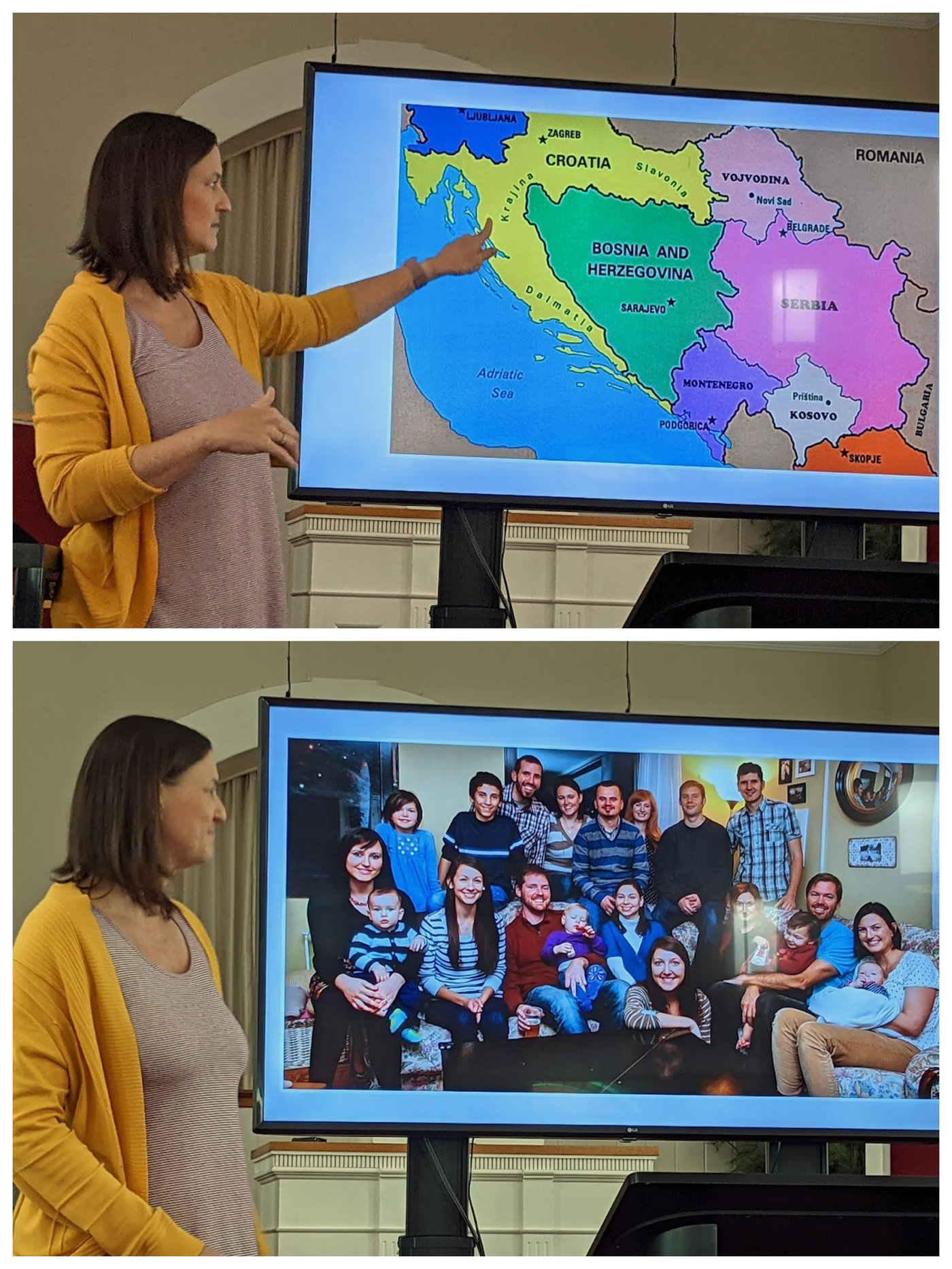 October Update
Aubrey Allison, whom Women on Mission sponsored on a mission trip this past summer, gave a summary of her two weeks of "boot camp" where they "roughed it" and her month in Zambia with Teen Missions when WOM met Oct. 11. She was part of a team that poured a foundation for a bathroom and tent floor and experienced the beauty of Victoria Falls, African wildlife, and the Zambezi River. Aubrey spoke of her own spiritual growth during this time of service and how she gained a better understanding of other people's "normal." Most importantly, she said, she learned that "nothing is too small to take to God, including blisters on your feet."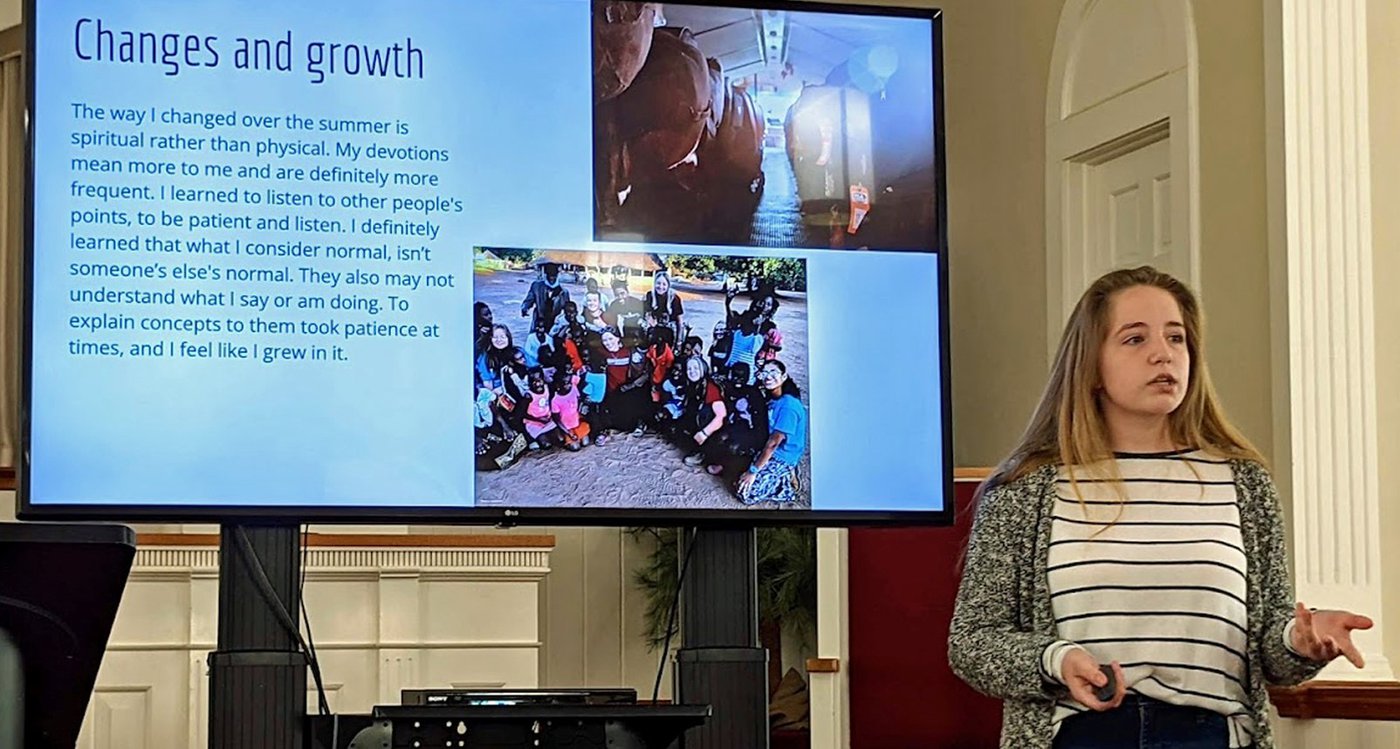 Guest speaker Jeremy Frith, son of missionaries, was born in Kenya, but raised primarily in England. He met Stacy, his wife (also of missionary parents) while on a trip to Bolivia. Jeremy and Stacy later married and themselves served as missionaries in Bolivia and Paraguay before locating in England, where he served with Barnabas Aid, a Christian agency whose goal is to spread awareness of the persecuted church. In 2019, they came to the United States where as chief executive officer he moved the Barnabas Aid office from the Washington, D.C., area to Lancaster, PA.
During this past year, Barnabas Aid has fed and provided water to more than 800,000 Christians in 32 countries affected by COVID pandemic shutdowns, locust invasions, and religious persecution. He shared how orphans and widows have been starving from famine in Zimbabwe and Mozambique . In India, Christians and pastors are denied government aid distribution, and in East Africa and Pakistan, they have experienced the worst plague of locusts in decades which wiped out all vegetation. Epap and other basic foods have been distributed by Barnabas Aid to help in each of these situations. While Barnabas Aid reaches Christians in 63 countries, much of their focus presently is to help Christians in Afghanistan who face annihilation if found by the Taliban.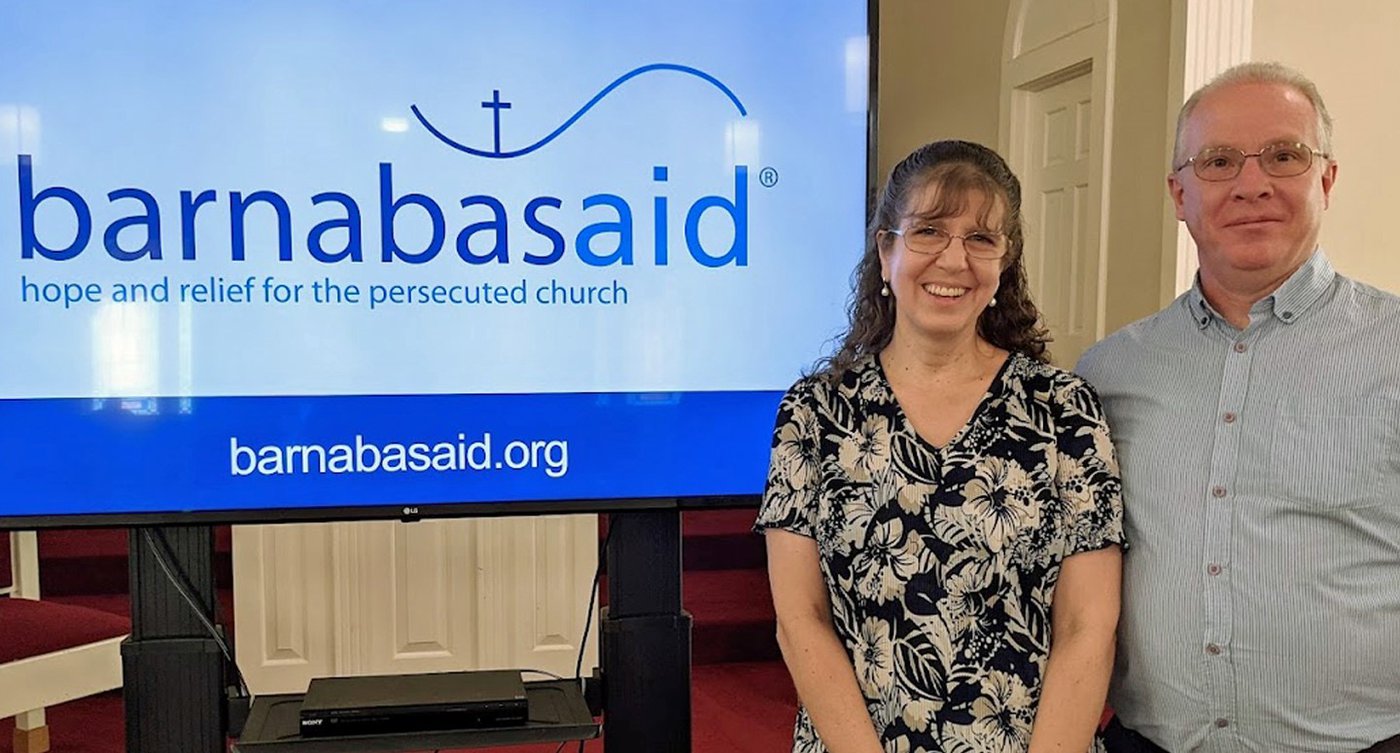 Barnabas Aid helps in the following ways as well: income-generating projects; small business startups; agriculture training and startups; painting and carpentry training; educational funding for Christian children. In Pakistan alone, they have provided 124 Christian schools and sewing centers, 33 of which are for wives and children of brick kiln workers who are bonded laborers, essentially enslaved to their employers by debt. By covering this debt, Barnabas Aid has freed 1,001 families. Adult literacy classes are provided for Christians, as well as medical clinics. Barnabas Aid also provides training for Christian leader, and provides Bibles and Christian literature.
Stacy shared about the lives of five specific Christian women who have been helped by Barnabas Aid, including one who was smuggled out of a Pakistani prison after being sentenced to death for blasphemy; a blind grandmother caring for her granddaughter who lost all their food to locusts; and a mother who was rejected by her Muslim sons when she converted to Christianity. Stacy and Jeremy concluded by challenging each woman on mission to feel the suffering of their brothers and sisters and to pray daily for them.
Coming In November
WOM's guest speaker for November is Becky Richards. She and her husband, Mike, are members of House of Prayer Church and make their home in Blairsville. Four years ago, Becky and Mike joined the Blairsville camp of Gideons International where they began serving as Auxiliary vice president and Gideon chaplain. Since that time they have taken on the responsibilities of president and area director – she for the Auxiliary and he for the Gideons. The Auxiliary is made up of wives of Gideons who support the ministry and work alongside their husbands. Becky said she has found the Auxiliary to be the perfect avenue to carry out her commitment to share her faith, counting it a privilege to be a part of a world-wide ministry whose sole objective is to win others to the Lord Jesus Christ. WOM will meet on Nov. 8 at 10:30 a.m. in First Baptist's Rock Chapel.
---
Ongoing Activities
In cooperation with the Atlanta Dream Center, WOM are writing messages of encouragement that can be handed out to young women who are being trafficked in Atlanta. WOM also supports Hope House of Union County by collecting personal hygiene items such as shampoo, body wash, deodorant, etc., which are distributed free of charge to Hope House clients. Through offerings collected monthly and budget funding from First Baptist, WOM are supporting the following ministries:
Cowboy Church of Jerusalem to purchase food and new boots.
Pure Love Pure Water for more filters to be sent to missionaries.
The Clarkston After-School Ministry, which provides a meal for the children and to purchase supplies for the children.
Missionaries Troy and Jeana Nicholson, whose home in Albania was damaged in a December earthquake.
Items Sought for Afghan Refugees in Clarkston
Women on Mission will be helping one or two refugee families from Afghanistan by providing kitchen items, linens, towels, blankets, coats, shoes, etc. Several Afghan families have moved into the Clarkston/Stone Mountain area and are nearing the end of their quarantine period. They arrived in the United States with nothing more than a plastic bag and whatever they could stuff in it. WOM will be receiving clothing sizes so that we can provide some winter clothing as well. In the meantime, if the First Baptist congregation has any of the above items would be willing to contribute, please bring them to the church to be stored in a designated space. At some future date WOM will enlist helpers, including someone with a truck, to transport the items to Clarkston. WOM also will be providing a supply of canned goods and staple items.
---
Who We Are
WOMEN ON MISSION have a passion for missions. We meet the second Monday of each month at 11:30 in the Ministry Center. Each month a special speaker is invited to share with us his/her time of ministry on the field, whether it be overseas or here in the United States. We have heard speakers from Russia, Albania, Turkey, Peru, Honduras, Tanzania, and many other places around the globe, as well as representatives from the ministry to refugees in Clarkston, GA, Out of Darkness Ministry in Atlanta, Voice of the Martyrs, and many other U.S.-based mission groups. We each receive a blessing from hearing the testimonies of these speakers. Often we learn of ways we can be involved in reaching out to the lost through these ministries.
Be a part of WOM
WOM supports a different missionary each year by sending them a monthly love gift. We also save and collect our loose pocket change to provide water filters for missionaries who do not have access to potable water. Periodically, we provide toiletry items which Hope House of Blairsville can share with its clients. As the Lord leads, we engage in projects which help missionaries or reach out to the lost. In all that we do, we aim to bring glory to our Lord and Savior, Jesus Christ.
We encourage you to come and join us on the second Monday of any given month. Participation is open to ALL women — young, old, or in between.
If you have questions, feel free to contact Nancy Brock at untilhisreturn@gmail.com or 706-781-6358 for further information.
---