Services and On-Campus activities Update
We are slowly returning to on-campus services and activities. Please check our FBC Updates page for detailed information about the timeline for our reopening and the steps we are taking as a church to stay safe through this process. Thank you!
---
WOM Provides Pandemic Relief to Clarkston Refugees
WOM contributed $3,000 this spring for pandemic relief to the international refugee ministry in Clarkston, GA, led by North American Mission Board missionaries Bennett and Idong Ekandem. Earlier this month, the Ekandems reported on how that money was used to help in this time of hardship:
Dear Mrs. Nancy and Women on Mission,
We bring you all greetings from Clarkston. Thank you again for the $3,000 donation you made to our ministry. It came in very handy.
As you know, a lot of people in Clarkston were adversely affected by COVID-19. However, we are happy to report that the funds you provided have been used to bring economic relief to a few families.
The housing situation in Clarkston:
Federally funded apartments are not allowed to evict tenants who default on rent payments for six months starting in February. That means, tenants who have missed rent payments in any given month must settle their outstanding balance by August to avoid eviction. Given the COVID-19 crisis, many people either lost their jobs or resigned due to unavoidable exposure to the virus at their workplace.
We identified and helped five families who were in need of rent/utility assistance for the month of June in Clarkston. Four of these families had received rent assistance from a refugee placement agency in April and May. We collaborated with another agency to help three of the five families out with June's rent:
A family of 6 from Myanmar. The father was ill with a fever for four week, and was not able to work as a result. Mom could not work either, as she had to stay home to care for her husband and four young children. You had prayed for her during the toy distribution last year. We were able to pay 60% of their rent while the other agency paid 40%.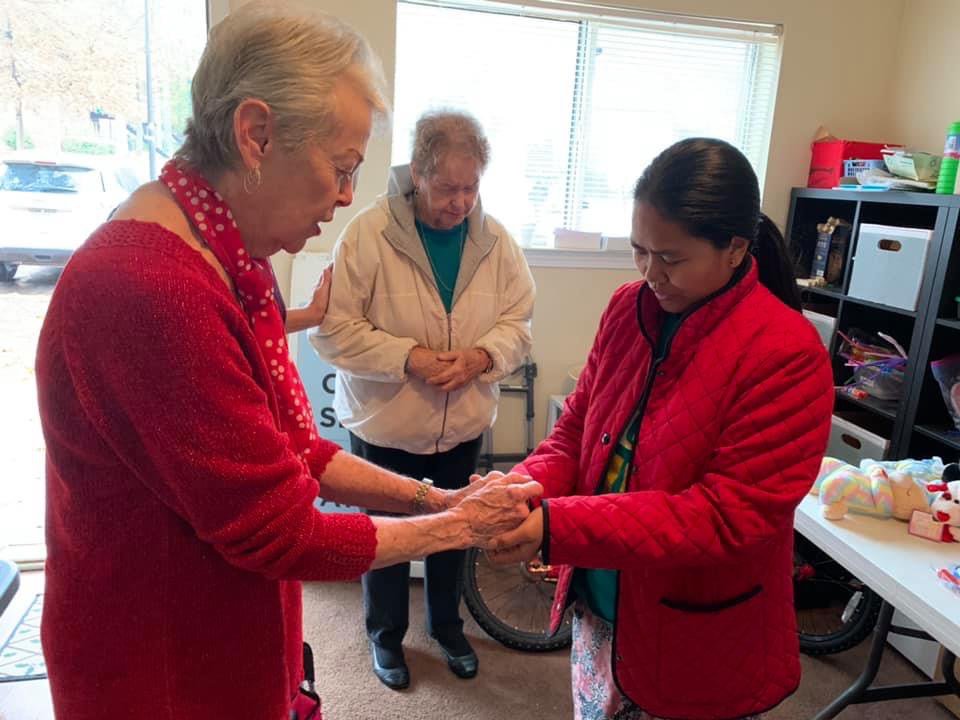 A family of 7 from Pakistan. This family converted from Islam and became followers of Jesus. They were persecuted in Pakistan for becoming Christians and faced death threats. As a result, they fled their home and resettled in the United States. The father was working but got injured on the job last year. He filed for workers' comp which is still in progress. His wife worked for five months as a caregiver in a senior living facility. Unfortunately, she had to leave her job when COVID-19 was detected in the facility for fear of exposing her family to the virus. She has been searching for another job since then. We paid 60% of their rent. The other agency settled the balance.
A family of 7 from the Democratic Republic of Congo. This family lost their dad during the genocide in Congo. Their widowed mother's health is ailing, which affects her ability to hold down a job long-term. During COVID-19, her immune system was highly compromised, so she had to stay home. Her 18-year-old son works to support the family. We were able to pay their outstanding water bill and 50% of their rent. Another agency that mentors her children paid the other half of their rent.
The management office at the Lakes told us about an American family that was struggling financially. They were six months behind on their water bills. She is a single mother with four children. Mom was involved in a car accident that almost ended her life. She is physically disabled as a result. The apartment owners had been gracious to her, but time was running out. We settled the bill just to give her a fresh start.
A family of 8 from Syria. They too became Christians and had to flee persecution in their home country. The father lost his job in February. Mom worked for a little while until several people at the farmer's market where she worked tested positive for COVID-19. The remaining employees were not adequately protected, so she resigned as a precaution. She was earning an annual salary of $4,600. They speak mostly Arabic and were not aware of the steps to filing for unemployment until ten days ago. Their monthly rent is $1,080, but they had only $530 available. The family approached us for help, so we paid the balance to the apartment owners on their behalf. We gave her $50 for bread, dairy products, fresh fruits & vegetables that we did not have in our food pantry. We used this opportunity to encourage them to hold on to Jesus. They were pleased to know that fellow believers raised the money to help them. It gave them hope.
The remaining funds will be used to cover food pantry expenses, including items that are not readily available from donations. Our pantry is where many families at The Lakes and neighboring apartments receive food, counseling and prayer.
Would you please remember these families in your prayers? These are very hard and troubling times, but your support gives them the strength they need to press on.
We are eternally grateful to you all; we can never forget your kindness. Our loving Heavenly Father has used you all in a very real and memorable way to provide for these families. May He continually bless and protect your own families.
In Christ's Love and Service,
Bennett and Idong
Coming in July and August
WOM will make another delivery of summer clothing and some household items to Clarkston on July 11. If you have items to donate, please contact WOM Director Nancy Brock at 706-781-6358 or untilhisreturn@gmail.com.
WOM hopes to resume monthly meetings on Aug. 10 if circumstances allow. Please watch this website for further information.
Who We Are
WOMEN ON MISSION have a passion for missions. We meet the second Monday of each month at 11:30 in the Ministry Center. Each month a special speaker is invited to share with us his/her time of ministry on the field, whether it be overseas or here in the United States. We have heard speakers from Russia, Albania, Turkey, Peru, Honduras, Tanzania, and many other places around the globe, as well as representatives from the ministry to refugees in Clarkston, GA, Out of Darkness Ministry in Atlanta, Voice of the Martyrs, and many other U.S.-based mission groups. We each receive a blessing from hearing the testimonies of these speakers. Often we learn of ways we can be involved in reaching out to the lost through these ministries.
Ongoing Activities
In cooperation with the Atlanta Dream Center, WOM are writing messages of encouragement that can be handed out to young women who are being trafficked in Atlanta. WOM also supports Hope House of Union County by collecting personal hygiene items such as shampoo, body wash, deodorant, etc., which are distributed free of charge to Hope House clients. Through offerings collected monthly and budget funding from First Baptist, WOM are supporting the following ministries:
Cowboy Church of Jerusalem to purchase food and new boots.
Pure Love Pure Water for more filters to be sent to missionaries.
The Clarkston After-School Ministry, which provides a meal for the children and to purchase supplies for the children.
Missionaries Troy and Jeana Nicholson, whose home in Albania was damaged in a December earthquake.
Be a part of WOM
WOM supports a different missionary each year by sending them a monthly love gift. We also save and collect our loose pocket change to provide water filters for missionaries who do not have access to potable water. Periodically, we provide toiletry items which Hope House of Blairsville can share with its clients. As the Lord leads, we engage in projects which help missionaries or reach out to the lost. In all that we do, we aim to bring glory to our Lord and Savior, Jesus Christ.
We encourage you to come and join us on the second Monday of any given month. Participation is open to ALL women — young, old, or in between.
If you have questions, feel free to contact Nancy Brock at untilhisreturn@gmail.com or 706-781-6358 for further information.