January Update
When Women on Mission met on Jan. 9, Phil and Mary Mason shared much of their life circumstances and how God brought them together. Mary came from an alcoholic family while Phil was reared in a dysfunctional family, yet God brought them together in high school (Mary was 18 and Phil was 15). Eloping at a young age, Phil finished out high school, and present at his graduation were not only his wife but their 3-month-old son.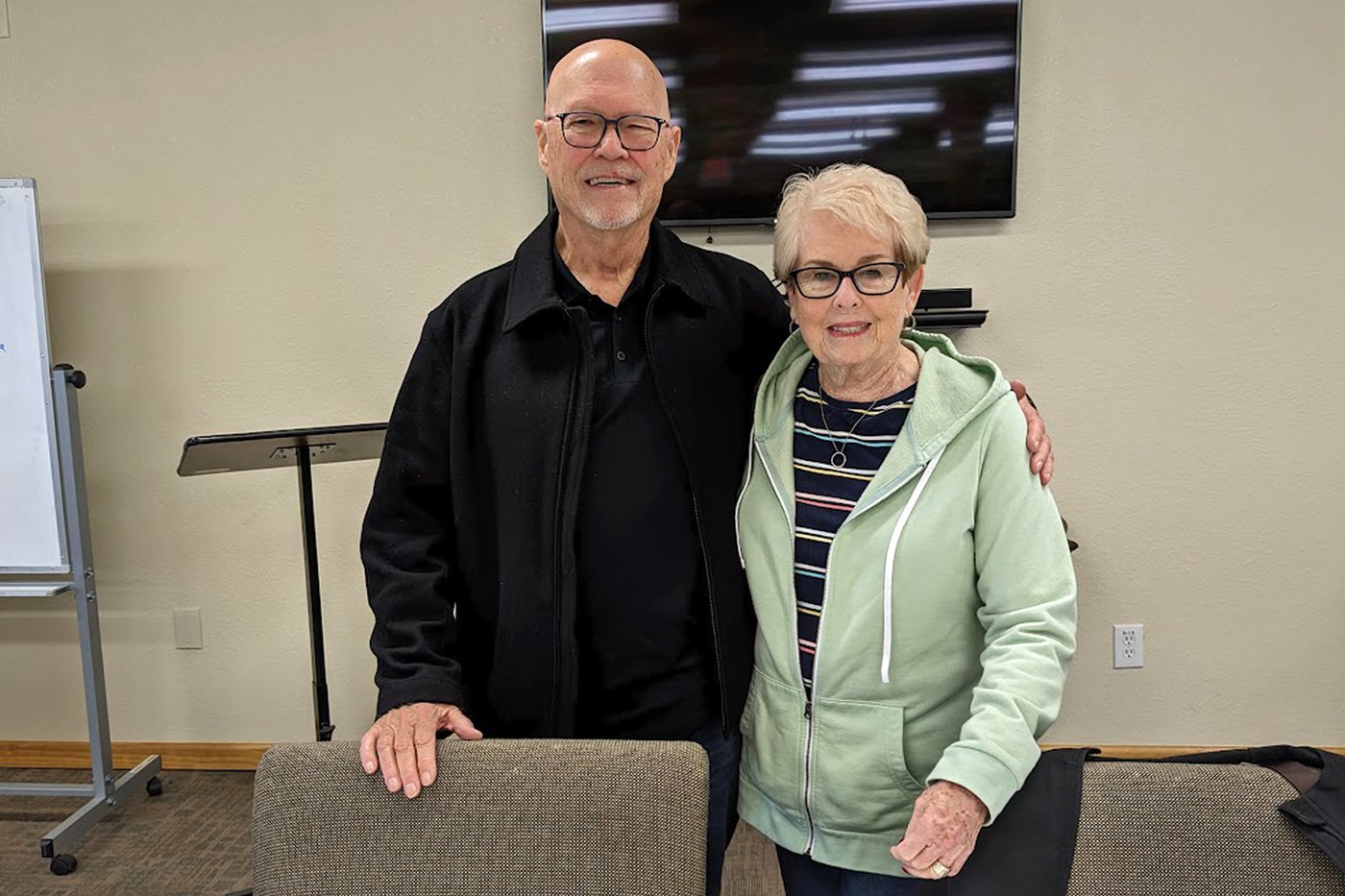 Several years after that event God broke through their defenses and called them to be His children. Phil served as youth director after that for several years, and shortly after that time of service, they began Safe Place Ministries. Through the years they have ministered to many missionaries and pastors and their wives – those who are hurting in some way or have needs that can be met only through counseling.
Safe Place Ministries offers a home in which to stay during the intensive two-day Kairos workshop based on Galatians 2:20. Through this ministry, many people have been strengthened to carry on the work to which God has called them.
Items Sought for Hope House
During January and until the Women on Mission meeting in February, WOM will be collecting items to fill bags for homeless people to be handed out by Hope House of Union County, a ministry of First Baptist and other churches in Union County that assists people with such financial needs as rent, utilities, propane for heating and cooking, medication and doctor bills, car insurance, and others. And yes, sadly, Union County does have a homeless population.
The following items are requested: Wash cloth, bar soap, travel-size shampoo, deodorant, toothbrush, hairbrush, comb, socks, gloves, breakfast bars and cheese crackers. The collected items will be distributed in some 50 shoulder bags hand-crafted by WOM members.
Coming In February
Next month Kathy Davis will share how God called her out of retirement to begin Georgia Mountain Pregnancy Center, a ministry that helps young women, many of whom may be considering abortion.
After moving from Florida to North Carolina in 2004, Kathy was led to talk to the director at the local pregnancy resource center after hearing her pastor speak about volunteer needs at the center. She started volunteering there and eventually became director. Extensive research led her to understand how important an ultrasound was when counseling an abortion-determined woman. After the board of directors agreed that providing medical services was necessary, in 2009 the facility became a medical pregnancy center. Kathy continued as director until 2014.
Kathy and her husband moved to Blairsville to retire, but God had other plans. In 2015 along with several other pro-life individuals they began discussions about starting a medical pregnancy center in Blairsville. Over the next year and a half they formed a corporation, acquired non-profit tax status and accumulated enough funds to get started. They purchased an ultrasound machine, hired and trained a nurse, and began seeing patients in March 2017.
The Feb. 13 meeting will be held in the Buchanan fellowship hall at First Baptist. A covered-dish luncheon begins at 11:30 a.m. followed by the program.
---
Ongoing Activities
In cooperation with the Atlanta Dream Center, WOM are writing messages of encouragement that can be handed out to young women who are being trafficked in Atlanta. WOM also supports Hope House of Union County by collecting personal hygiene items such as shampoo, body wash, deodorant, etc., which are distributed free of charge to Hope House clients. Through offerings collected monthly and budget funding from First Baptist, WOM are supporting the following ministries:
Cowboy Church of Jerusalem to purchase food and new boots.
Pure Love Pure Water for more filters to be sent to missionaries.
The Clarkston After-School Ministry, which provides a meal for the children and to purchase supplies for the children.
Missionaries Troy and Jeana Nicholson, whose home in Albania was damaged in a December earthquake.
---
Who We Are
WOMEN ON MISSION have a passion for missions. We meet the second Monday of each month at 11:30 in the Ministry Center. Each month a special speaker is invited to share with us his/her time of ministry on the field, whether it be overseas or here in the United States. We have heard speakers from Russia, Albania, Turkey, Peru, Honduras, Tanzania, and many other places around the globe, as well as representatives from the ministry to refugees in Clarkston, GA, Out of Darkness Ministry in Atlanta, Voice of the Martyrs, and many other U.S.-based mission groups. We each receive a blessing from hearing the testimonies of these speakers. Often we learn of ways we can be involved in reaching out to the lost through these ministries.
Be a part of WOM
WOM supports a different missionary each year by sending them a monthly love gift. We also save and collect our loose pocket change to provide water filters for missionaries who do not have access to potable water. Periodically, we provide toiletry items which Hope House of Blairsville can share with its clients. As the Lord leads, we engage in projects which help missionaries or reach out to the lost. In all that we do, we aim to bring glory to our Lord and Savior, Jesus Christ.
We encourage you to come and join us on the second Monday of any given month. Participation is open to ALL women — young, old, or in between.
If you have questions, feel free to contact Nancy Brock at untilhisreturn@gmail.com or 706-781-6358 for further information.
---