November Update
Women on Mission "took a stroll down memory lane" at their Nov. 13 meeting to see the many ways WOM and Beacon Mission Team have reached out to serve others in the name of Jesus, including mission trips to New York City, helping refugees in Clarkston, GA, helping with special needs in our community, work projects at Camp Bethel and Bland, VA, and disaster relief.
WOM Director Nancy Brock started the pictorial review with scenes from the after-school and English as a Second Language classes at the Jackson Heights church in New York City where WOM- and First Baptist-supported missionaries Adam and Erin Bishop work with in multi-lingual, multi-cultural community. Nancy also spoke of prayer walks WOM participated in around the NYC neighborhood Buddhist and Hindu temples. In Clarkston, WOM assisted North American missionaries Idong and Bennett Ekandem in distributing clothes and household items to refugees from several continents.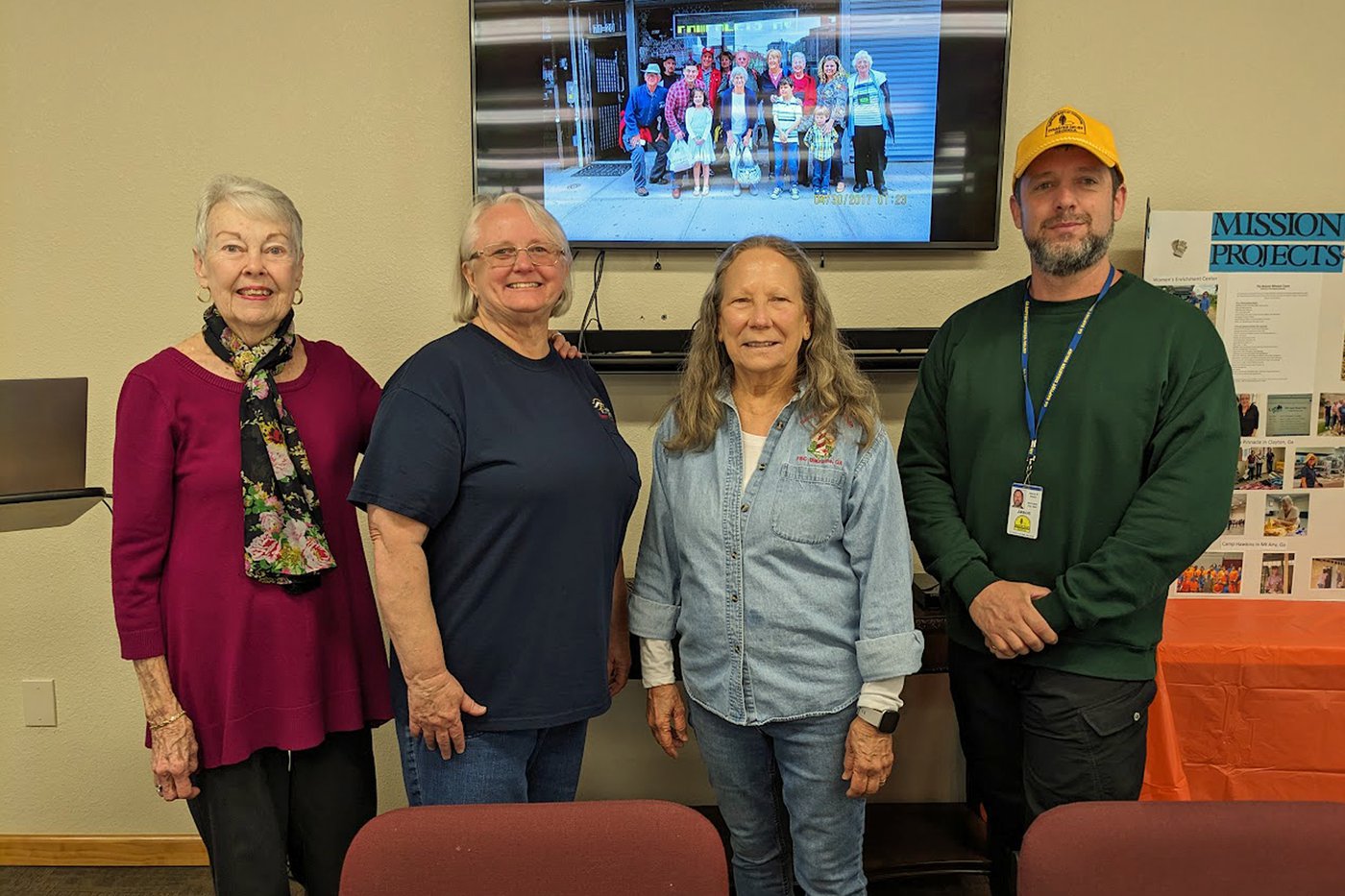 Next was Jeanette Earle, Beacon Mission Team chair, who shared scenes from visits to the Cowboy Church in Jerusalem (Fairmount, GA) and the Double H Ranch Academy of Hope and Healing, run by missionary Rebecca Hampton. Here, troubled students find refuge in equine therapy, get help with school work, and experience a loving home environment founded on the love of Jesus Christ. In cooperation with Redeemer Baptist Church in Blairsville, Jeanette also shared about We Care, a ministry to local caregivers. Beacon Team also helps with home repairs, tree and yard work, general maintenance, and building ramps, among other tasks. WOM and Beacon Team members have made several trips to Camp Pinnacle in Clayton to perform repairs and cleaning, work in the camp store, and to help prepare and serve meals to campers. The Beacon Team finished construction of the camp director's new house.
Robin DeYoung continued sharing about mission trips the Beacon Team has taken to Camp Bethel in Wise, VA, where they performed outdoor and indoor repairs and cleaning at the 1939-era facility, including a lake where 60 people were to be baptized. At the Bland, VA, community center, Beacon Team members sorted donated clothing and housewares and visited a special-needs nursing home and local school. They distributed Operation Christmas Child boxes to the Appalachia children, including Gideon New Testaments.
Jason Annis gave a presentation on Georgia Baptist Disaster Relief, stressing that the main purpose is to spread the gospel while providing hope, help, and healing, "bringing Christ to crisis." The disaster relief organization includes cleanup and recovery units, chainsaw teams, feeding teams, laundry and shower trailers, incident management teams, all working in coordination with the American Red Cross, and a chaplain corps. Jason shared a personal testimony of how the power of prayer by fellow team members intervened in a life-threatening accident at a disaster scene and provided an opportunity to witness to the emergency response personnel who responded and cared for him.
Coming In December
Next month Pastor Jerry Alcorta will share with Women on Mission about his ministry in Lima, Peru. The meeting on Monday, Dec. 11, will begin with a covered-dish luncheon in the Buchanan Hall at First Baptist at 11:30 a.m. followed by the speaker's presentation at noon.
A native of Lima, Pastor Alcorta was called to the ministry at age 16 in 1974, and in 1976 the Lord opened doors for him to come to the United States to prepare to serve. He attended East Texas Baptist College in Marshall where he met Elva, whom he married in 1978. He graduated from the Hispanic Baptist Theological Seminary in San Antonio in 1982.
Jerry and students from the college planted Primera Iglesia Bautista in Longview, Texas, in October 1977. By April of the next year, he was ordained and licensed to preach. He has been a church planter and pastor in Texas, Colorado, and Georgia, and has done mission work in Puerto Rico, Mexico, and Central and South America. He is a musician and composer, using his voice and guitar to reach people's hearts with the Gospel.
Residents of Lawrenceville, GA, Elva and Jerry have been married 45 years. They are taking a step of faith as local pastor/missionary and foreign itinerant missionary to Peru.
---
Ongoing Activities
In cooperation with the Atlanta Dream Center, WOM are writing messages of encouragement that can be handed out to young women who are being trafficked in Atlanta. WOM also supports Hope House of Union County by collecting personal hygiene items such as shampoo, body wash, deodorant, etc., which are distributed free of charge to Hope House clients. Through offerings collected monthly and budget funding from First Baptist, WOM are supporting the following ministries:
Cowboy Church of Jerusalem to purchase food and new boots.
Pure Love Pure Water for more filters to be sent to missionaries.
The Clarkston After-School Ministry, which provides a meal for the children and to purchase supplies for the children.
Missionaries Troy and Jeana Nicholson, whose home in Albania was damaged in a December earthquake.
---
Who We Are
WOMEN ON MISSION have a passion for missions. We meet the second Monday of each month at 11:30 in the Buchanan Hall under the Rock Chapel. Each month a special speaker is invited to share with us his/her time of ministry on the field, whether it be overseas or here in the United States. We have heard speakers from Russia, Albania, Turkey, Peru, Honduras, Tanzania, and many other places around the globe, as well as representatives from the ministry to refugees in Clarkston, GA, Out of Darkness Ministry in Atlanta, Voice of the Martyrs, and many other U.S.-based mission groups. We each receive a blessing from hearing the testimonies of these speakers. Often we learn of ways we can be involved in reaching out to the lost through these ministries.
Be a part of WOM
WOM supports a different missionary each year by sending them a monthly love gift. We also save and collect our loose pocket change to provide water filters for missionaries who do not have access to potable water. Periodically, we provide toiletry items which Hope House of Blairsville can share with its clients. As the Lord leads, we engage in projects which help missionaries or reach out to the lost. In all that we do, we aim to bring glory to our Lord and Savior, Jesus Christ.
We encourage you to come and join us on the second Monday of any given month. Participation is open to ALL women — young, old, or in between.
If you have questions, feel free to contact Nancy Brock at untilhisreturn@gmail.com or 706-781-6358 for further information.
---