July Update
At their July 12 meeting, Women on Mission heard from one of their own: Karen Boon. As a young child attending camp, she accepted the Lord Jesus age 9. Even though her family stopped going to church a few years after that, Karen continued to attend church and youth events, growing in the Lord. During this time an older female mentor encouraged her to go to a Christian college, and although Karen did not feel she could afford that, the Lord provided for her to attend Gordon College. Gordon Conway Seminary was close by, and Karen met Ed, her future husband, who was at that time enrolled in the seminary. In Karen's junior year, she and Ed attended "Missions in Review," which had a great impact on Karen's life and was her first exposure to missions. She later committed her life to go wherever the Lord would lead. Karen and Ed were married in 1964.
After making an "open" application to go overseas, followed by the required five years of home service, the Boons were assigned to Mali, home of the famed Timbuktu, and Burkina Faso, both former French colonies and populated by the same tribe divided by a river. They were some of the last American missionaries to travel by ship to France, where they spent six months studying French before beginning their work on the field.
Once in Mali, they worked with children and youth, along with starting a Bible school in French for pastors which Ed led. They saw much fruit from their labors but also experienced hardships, including contracting Dengue fever, malaria, and hepatitis. Still,
Africa was on fire spiritually because Christians in the United States were praying for Africa," Karen said. "God was on the move. The harvest was ready and was being brought in."
The Boons found the opposite situation in Toulouse, France, their next mission field. Karen described France as in a post-Christian era but with a resident population that identifies itself as Catholic. "The fruit that is being picked for the gospel there is one by one," she said. The missionaries used outdoor music rallies to pull people in. They also led worship services for English-speaking residents, and Ed served was director of missions for France while Karen led Tuesday-morning Bible students. One local pastor offered his church building for Sunday-evening services, leading to the birth of two new churches and an international ministry that continues today. "The fruit is hand-picked in France, but God is building His church one by one," Karen said.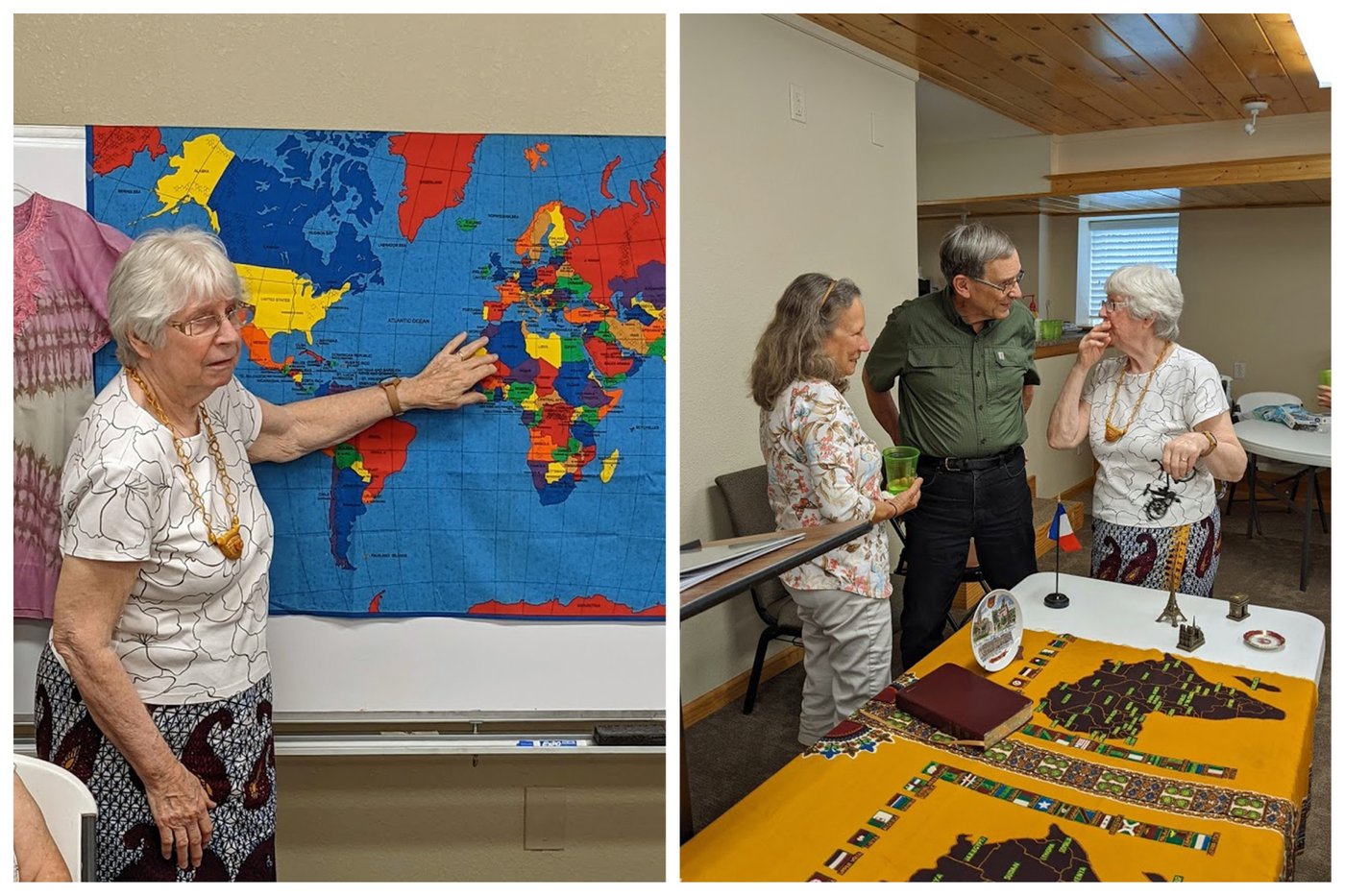 Coming In August
When Women on Mission meet Aug. 9, they will hear from Chris and Katie Nalls. The Nalls serve as career missionaries with the International Mission Board in Tete, Mozambique, focusing on church planting and leadership development. They have served with the IMB for 16 years. Chris is from Tifton, Georgia, and a graduate of the University of Georgia, and Katie is from Carrollton, Georgia, and a graduate of Berry College. They met while serving as journeyman missionaries. They have three children: Abigail, age 13, Emma Claire, age 10, and Daniel, age 7.
WOM will meet at 11:30 a.m. on Aug. 9 in the Buchanan fellowship hall. The program by the Nalls will follow a pot-luck luncheon.
June Update
At the June meeting of Women on Mission, Oliver Hawkins shared how he was introduced to various world cultures during his connection with Oneida (Kentucky) Baptist Institute, for grades 1-12. In 1998 he took a mission trip to Malaysia, where he felt the call to go into missions. He and his wife Valerie and their three children went to China in 2003, where his sports platform enabled him to hold various sports camps on college campuses where many young men heard the Gospel presentation. His first year there, 16 young men were saved.
In 2006 Oliver became a church planting catalyst for the North American Mission Board in inner-city Cincinnati, Ohio, where his role is to "discover, develop, and deploy church planters." He shared some interesting facts:
In Ohio, there are more than 100 different languages spoken, with large Nepali, Arabic, Asian Indian, Congolese, and Hispanic populations, among others, in Cincinnati alone;
In the year 1900, there was one Southern Baptist church for every 3,800 people.
In 2010, there was one Southern Baptist church for every 6,100 people.
In Ohio, there is one Southern Baptist church for every 18,495 people, compared to one church for every 3,154 people in Georgia.
Each year, 750-900 Southern Baptist churches close. There is a dire need, he said, to plant churches to keep up with the population growth and the loss from churches closing.
Oliver and other church planters have helped to replant dying churches, by training new pastors, and by helping to reach out into communities to bring in a "core " congregation. For example, one downtown Cincinnati church was down to seven people. The congregation gave the building to a church planting effort that within a year had three services and more than 600 people – including the original seven. In addition to this, in Cincinnati they have planted an Arabic-speaking church which ministers to Iranians and Syrians. This church presently has 55 members, yet up to 20,000 people throughout the world hear the message, as it goes out online each week. In Cincinnati, 11 independent church have affiliated with Southern Baptists in the past three years, Oliver said.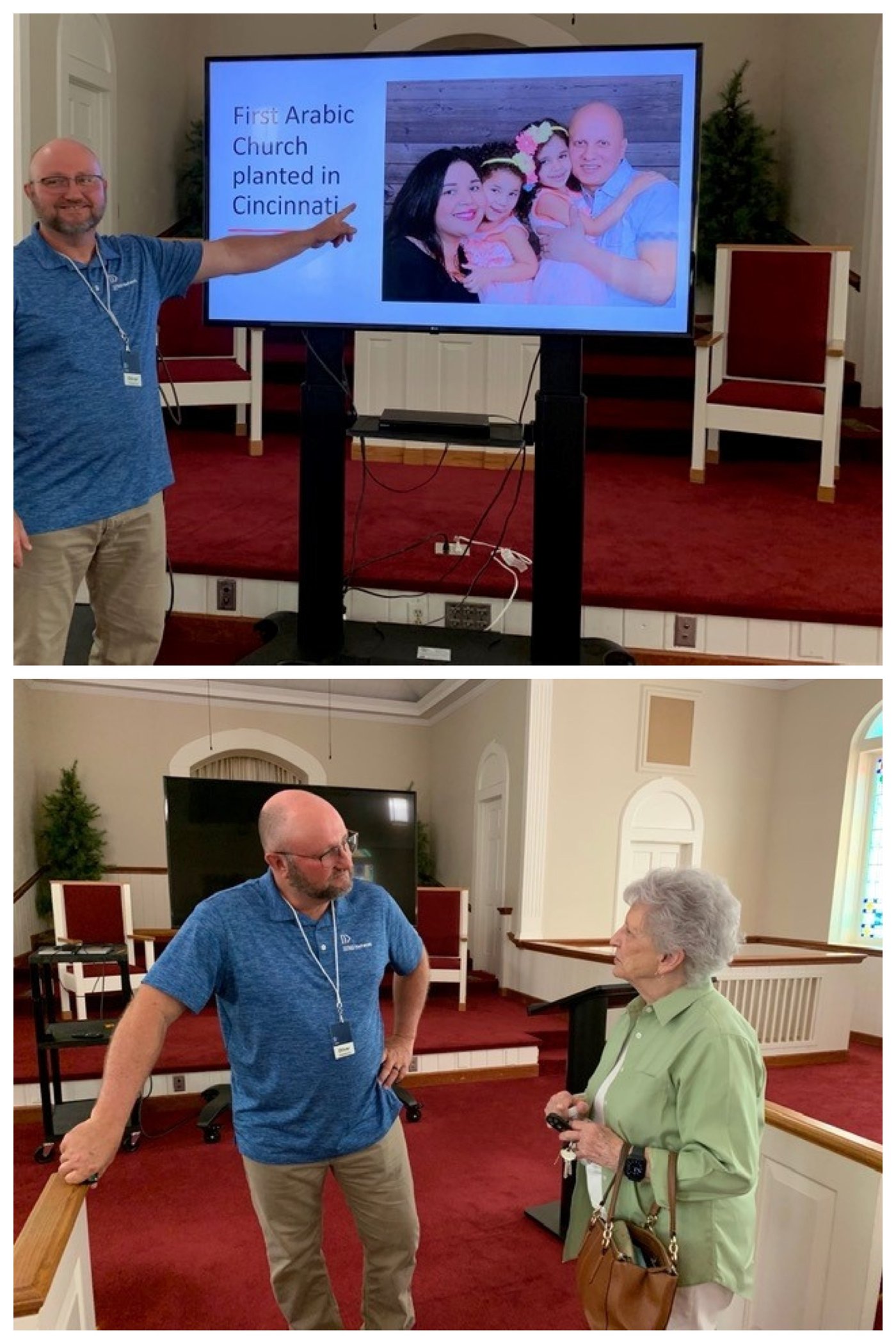 Household Items, Summer Arts Supplies Delivered to Clarkston Refugee Ministry
Women on Mission on May 1 delivered 40 bags of coloring books, rayons, puzzles, drawing paper, colored pencils, puzzle cubes, soap bubbles, and other art supplies to children who are part of the international refugee ministry in Clarkston, GA. Six WOM representatives also took a truckload of clothing and household items which had been collected through donations by First Baptist members. Eight students from the Baptist Collegiate Ministry at Clemson University joined NAMB missionaries Bennett and Idong Ekandem, their sons, and the WOM in the effort.
(pictures in separate email)
Additionally, WOM has contributed $500 to help meet the needs of four refugee families who lost their housing in a fire at the apartment complex where the Clarkston refugees live. Thanks to contributions totaling nearly $2,000, as of May 15 one family received an additional week at a hotel, one family received two additional hotel weeks, the cost of a third person's week in a hotel was covered, and a fourth family found permanent housing with rental assistance for the first month.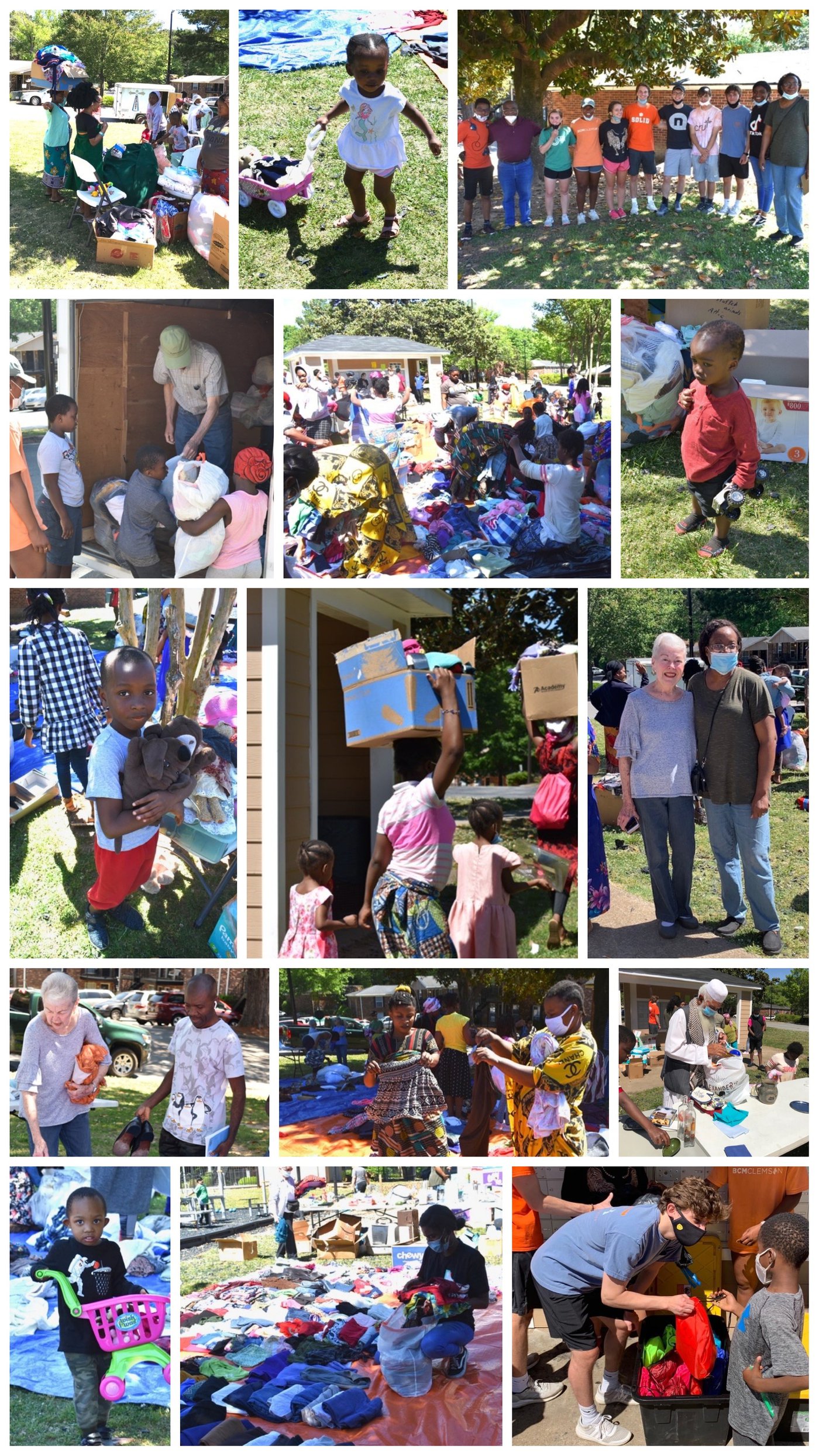 ---
Who We Are
WOMEN ON MISSION have a passion for missions. We meet the second Monday of each month at 11:30 in the Ministry Center. Each month a special speaker is invited to share with us his/her time of ministry on the field, whether it be overseas or here in the United States. We have heard speakers from Russia, Albania, Turkey, Peru, Honduras, Tanzania, and many other places around the globe, as well as representatives from the ministry to refugees in Clarkston, GA, Out of Darkness Ministry in Atlanta, Voice of the Martyrs, and many other U.S.-based mission groups. We each receive a blessing from hearing the testimonies of these speakers. Often we learn of ways we can be involved in reaching out to the lost through these ministries.
Ongoing Activities
In cooperation with the Atlanta Dream Center, WOM are writing messages of encouragement that can be handed out to young women who are being trafficked in Atlanta. WOM also supports Hope House of Union County by collecting personal hygiene items such as shampoo, body wash, deodorant, etc., which are distributed free of charge to Hope House clients. Through offerings collected monthly and budget funding from First Baptist, WOM are supporting the following ministries:
Cowboy Church of Jerusalem to purchase food and new boots.
Pure Love Pure Water for more filters to be sent to missionaries.
The Clarkston After-School Ministry, which provides a meal for the children and to purchase supplies for the children.
Missionaries Troy and Jeana Nicholson, whose home in Albania was damaged in a December earthquake.
Be a part of WOM
WOM supports a different missionary each year by sending them a monthly love gift. We also save and collect our loose pocket change to provide water filters for missionaries who do not have access to potable water. Periodically, we provide toiletry items which Hope House of Blairsville can share with its clients. As the Lord leads, we engage in projects which help missionaries or reach out to the lost. In all that we do, we aim to bring glory to our Lord and Savior, Jesus Christ.
We encourage you to come and join us on the second Monday of any given month. Participation is open to ALL women — young, old, or in between.
If you have questions, feel free to contact Nancy Brock at untilhisreturn@gmail.com or 706-781-6358 for further information.
---