May Update
Women on Mission gathered May 8 to hear Jake and Marissa Kelly's testimony about their call to go to Papua New Guinea to share the Good News with those in darkness.
Jake, a Blairsville native, and Marissa, met at Jake's home church where they participated in youth group together and the two ran cross-country together in high school. Neither had definite plans for the post-college careers. But as Bible camp counselors both felt the call to go to the mission field – specifically Papua New Guinea – after hearing a missionary say in the 2,000 years since Jesus died, the gospel had never been uttered to a tribe there. "This is what really grabbed our attention," Jake said, "that there are still people in the world who have never heard the gospel."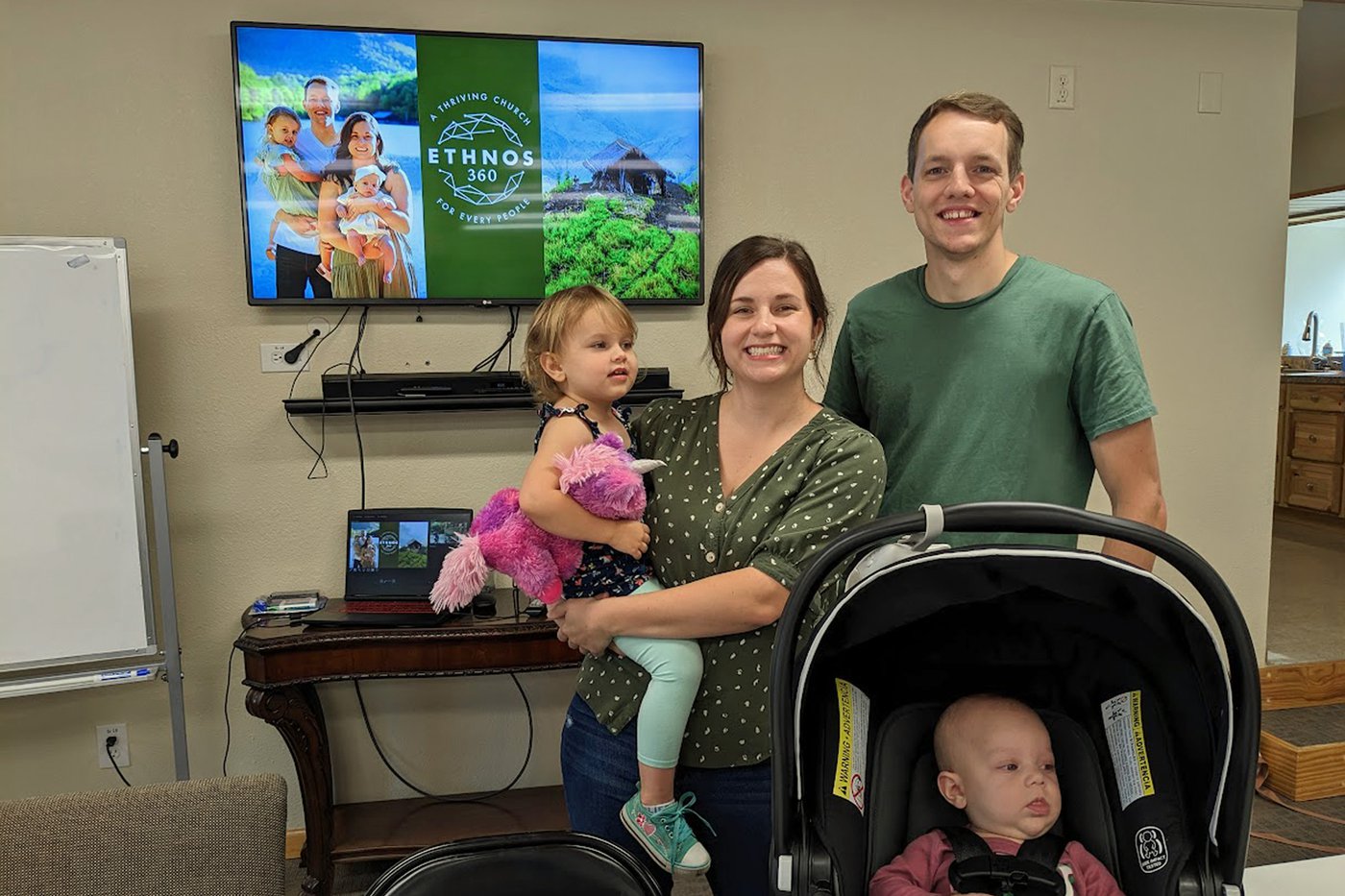 Papua New Guinea is considered the single most linguistically diverse country in the world with 300 unique cultures and languages. In preparation for their September departure with their two young children Jane and Riley, the Kellys have undergone two years of Bible training with Ethnos 360 and two years of cross-cultural ministry training. After reaching their home base in the city of Madang in north central Papua New Guinea, they will be required to learn a "trade language" in addition to the language spoken by the particular tribe where they will minister.
Ethnos 360 evangelizes unreached people groups, translates scripture and sees indigenous churches established that glorify God. The timetable for learning the indigenous language, translating scripture, providing literacy training to the community so they can read the Bible in their own language, discipling people and earning their trust, and establishing churches is 20-30 years. "We work for efficiency and excellency," Marissa said. "There's no need for speed." Such an effort requires 365 missionaries country-wide, about half of which are in support roles – from doctors to pilots to teachers – for the 20 active missionary teams working with the tribes.
While only 3 percent of all worldwide mission effort is targeted at unreached people groups like those in Papua New Guinea, the work done by Ethnos 360 has resulted in 200 indigenous churches planted. Jake said Ethnos 360 has identified seven unreached people groups where work could begin now if there are people to go spread the gospel.
Coming In June
Next month Kerry Jackson and his wife, Twyla, will be with WOM to share how God has used his talent as an artist to present the Gospel message and to plant churches.
Kerry and Twyla serve as evangelism catalyst missionaries with the North American Mission Board. For several years they were involved in church planting, focusing on reaching the arts communities of both Atlanta and Indianapolis. Now based in Marietta, they fulfill the Great Commission by sharing the gospel through visual art and discipling other "creatives" by hosting Bible studies focused on the physical and spiritual needs of artists.
Kerry and Twyla are 100 percent self-supported missionaries and rely on ministry partners for prayer and financial support for both their living and ministry needs.
Originally from Jackson, Miss., they and have been married for 41 years and have two daughters who have blessed them with seven grandchildren.
The June WOM meeting will begin with a covered-dish luncheon at 11:30 in the Buchanan fellowship hall at First Baptist, followed by the speakers' presentation at noon.
---
Ongoing Activities
In cooperation with the Atlanta Dream Center, WOM are writing messages of encouragement that can be handed out to young women who are being trafficked in Atlanta. WOM also supports Hope House of Union County by collecting personal hygiene items such as shampoo, body wash, deodorant, etc., which are distributed free of charge to Hope House clients. Through offerings collected monthly and budget funding from First Baptist, WOM are supporting the following ministries:
Cowboy Church of Jerusalem to purchase food and new boots.
Pure Love Pure Water for more filters to be sent to missionaries.
The Clarkston After-School Ministry, which provides a meal for the children and to purchase supplies for the children.
Missionaries Troy and Jeana Nicholson, whose home in Albania was damaged in a December earthquake.
---
Who We Are
WOMEN ON MISSION have a passion for missions. We meet the second Monday of each month at 11:30 in the Ministry Center. Each month a special speaker is invited to share with us his/her time of ministry on the field, whether it be overseas or here in the United States. We have heard speakers from Russia, Albania, Turkey, Peru, Honduras, Tanzania, and many other places around the globe, as well as representatives from the ministry to refugees in Clarkston, GA, Out of Darkness Ministry in Atlanta, Voice of the Martyrs, and many other U.S.-based mission groups. We each receive a blessing from hearing the testimonies of these speakers. Often we learn of ways we can be involved in reaching out to the lost through these ministries.
Be a part of WOM
WOM supports a different missionary each year by sending them a monthly love gift. We also save and collect our loose pocket change to provide water filters for missionaries who do not have access to potable water. Periodically, we provide toiletry items which Hope House of Blairsville can share with its clients. As the Lord leads, we engage in projects which help missionaries or reach out to the lost. In all that we do, we aim to bring glory to our Lord and Savior, Jesus Christ.
We encourage you to come and join us on the second Monday of any given month. Participation is open to ALL women — young, old, or in between.
If you have questions, feel free to contact Nancy Brock at untilhisreturn@gmail.com or 706-781-6358 for further information.
---