December Update
At their Dec. 14 meeting, Women on Mission heard from Karyn Hermann, 17-year missionary to Central Asia. Karyn spent many years working with locals in the mega-city where she lives. Early on, she met a fellow believer, Karine, who became not only her language tutor language but a good friend and fellow worker. In 2015, Karyn joined Karine in reaching out to the many Iraqi refugees who were flooding into the city. Their outreach soon included Syrians, who mostly spoke Arabic, forcing Karyn to learn a third language.
Prior to the coronavirus epidemic, Karyn and Karine were able to give a Christmas party at which the Gospel was shared. Most Arab Syrians are Muslim, and to give up Islam would be to deny their very identity, so it is a very difficult calling. Karyn has worked with the women to help them make crafts to sell in order to help out with family needs. Muslim women are discouraged from working outside the home, so learning various crafts provides additional income. In addition to having events for the women, Karyn also provided gatherings for the children at the refugee center where they learned about Jesus and His love for them.
When the pandemic hit and the city was forced to lock down, Karyn was forced to be inside her home 167 hours out of 168. During that forced isolation, Karyn said she felt God teaching her many things, primarily: "You may never see results, but don't give up!" She made her own "War Room" where she papered the wall with praises of God's attributes, the needs of believers, the strongholds in her country, and other strategic needs for prayer. She said she is eagerly looking forward to returning to her country, although it is still in forced lockdown every weekend from 9:00 Friday night through 5 a.m. Monday.
Karyn shared with WOM that one of her close friends commented on the fact that Karyn is a woman of faith. Yet Karyn later cried when realizing that after so many years, while that friend saw her as a woman of faith the woman's own life had not been impacted. Through that sorrowful recognition, Karyn said she felt the Lord telling her to pray and leave the results to Him. She encouraged WOM to be diligent prayer warriors for those who live in darkness. Even though she may never see the results of her labors this side of heaven, she said she knows that God is working and will draw women to Himself as she continues to labor for Him.
Ongoing Support for Clarkston Refugee Ministry
Also at the December meeting, Women on Mission voted to support North American Mission Board missionaries Bennett and Idong Ekandem during the next year by sending $200 a month to be used in their ministry to the refugees in Clarkston. WOM has been providing donations of clothing, furniture, household items, food and personal items to the ministry for the past three years.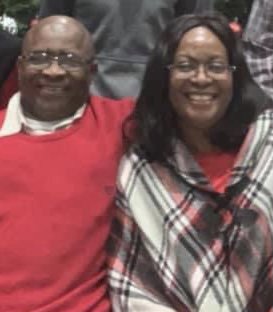 Coming In January
Women on Mission will next meet on Monday, Jan. 11, 2020, at 10:30 a.m. in the First Baptist Ministry Center. Guest speakers will be Ryan and Cathlyn Zwemke who serve at Black Forest Academy (BFA) in Kandern, Germany. BFA is an accredited Christian international school primarily serving missionaries and their families from more than 40 countries. BFA helps these families stay on the mission field through affordable Christian education.
Ryan is the high school and middle school choir director at the academy, with daily contact and interaction with the missionary kids (MKs). As a family, the Zwemkes strive to reach out to the MKs, the academy staff members, and the German community by developing relationships with MKs through class and school functions, thus opening doors to the Gospel through personal evangelism, mentoring, and weekly small-group Bible study, as well as inviting students to the family's home to join in family life, games, family worship time, and relational discipleship. Cathlyn actively looks to invest in the single women and young mothers in the BFA community as the family works to develop evangelistic relationships with their German neighbors. Students touched by the Zwemkes' ministry become life-givers to many others, as these MKs are globally knowledgeable of diverse cultures and are being used by God as next-generation missionaries and leaders.
---
Who We Are
WOMEN ON MISSION have a passion for missions. We meet the second Monday of each month at 11:30 in the Ministry Center. Each month a special speaker is invited to share with us his/her time of ministry on the field, whether it be overseas or here in the United States. We have heard speakers from Russia, Albania, Turkey, Peru, Honduras, Tanzania, and many other places around the globe, as well as representatives from the ministry to refugees in Clarkston, GA, Out of Darkness Ministry in Atlanta, Voice of the Martyrs, and many other U.S.-based mission groups. We each receive a blessing from hearing the testimonies of these speakers. Often we learn of ways we can be involved in reaching out to the lost through these ministries.
Ongoing Activities
In cooperation with the Atlanta Dream Center, WOM are writing messages of encouragement that can be handed out to young women who are being trafficked in Atlanta. WOM also supports Hope House of Union County by collecting personal hygiene items such as shampoo, body wash, deodorant, etc., which are distributed free of charge to Hope House clients. Through offerings collected monthly and budget funding from First Baptist, WOM are supporting the following ministries:
Cowboy Church of Jerusalem to purchase food and new boots.
Pure Love Pure Water for more filters to be sent to missionaries.
The Clarkston After-School Ministry, which provides a meal for the children and to purchase supplies for the children.
Missionaries Troy and Jeana Nicholson, whose home in Albania was damaged in a December earthquake.
Be a part of WOM
WOM supports a different missionary each year by sending them a monthly love gift. We also save and collect our loose pocket change to provide water filters for missionaries who do not have access to potable water. Periodically, we provide toiletry items which Hope House of Blairsville can share with its clients. As the Lord leads, we engage in projects which help missionaries or reach out to the lost. In all that we do, we aim to bring glory to our Lord and Savior, Jesus Christ.
We encourage you to come and join us on the second Monday of any given month. Participation is open to ALL women — young, old, or in between.
If you have questions, feel free to contact Nancy Brock at untilhisreturn@gmail.com or 706-781-6358 for further information.