June Update
When Women on Mission met June 13, First Baptist's own Jim Colwell stepped in at the last minute to share a number of short video clips of the work being done in New York City by his daughter Erin and son-in-law Adam Bishop. Adam and Erin have lived in Queens for eight years, and their focus is on the many internationals who live in Jackson Heights where, within a two-mile radius, 150 languages are spoken.
Adam is the lead pastor of Jackson Heights Community Church, and during the pandemic months, when NYC was virtually shut down, the church provided: pizza each week to the police, meals for Elmhurst Hospital workers, groceries for families, funds to Pakistani pastors, Iftar meals to the many Muslims in the area (Iftar is the big meal eaten after fasting all day), and quarantine survival packets for children. Erin is a counselor for au pairs in Queens, matching them with families, as well as studying for a graduate degree.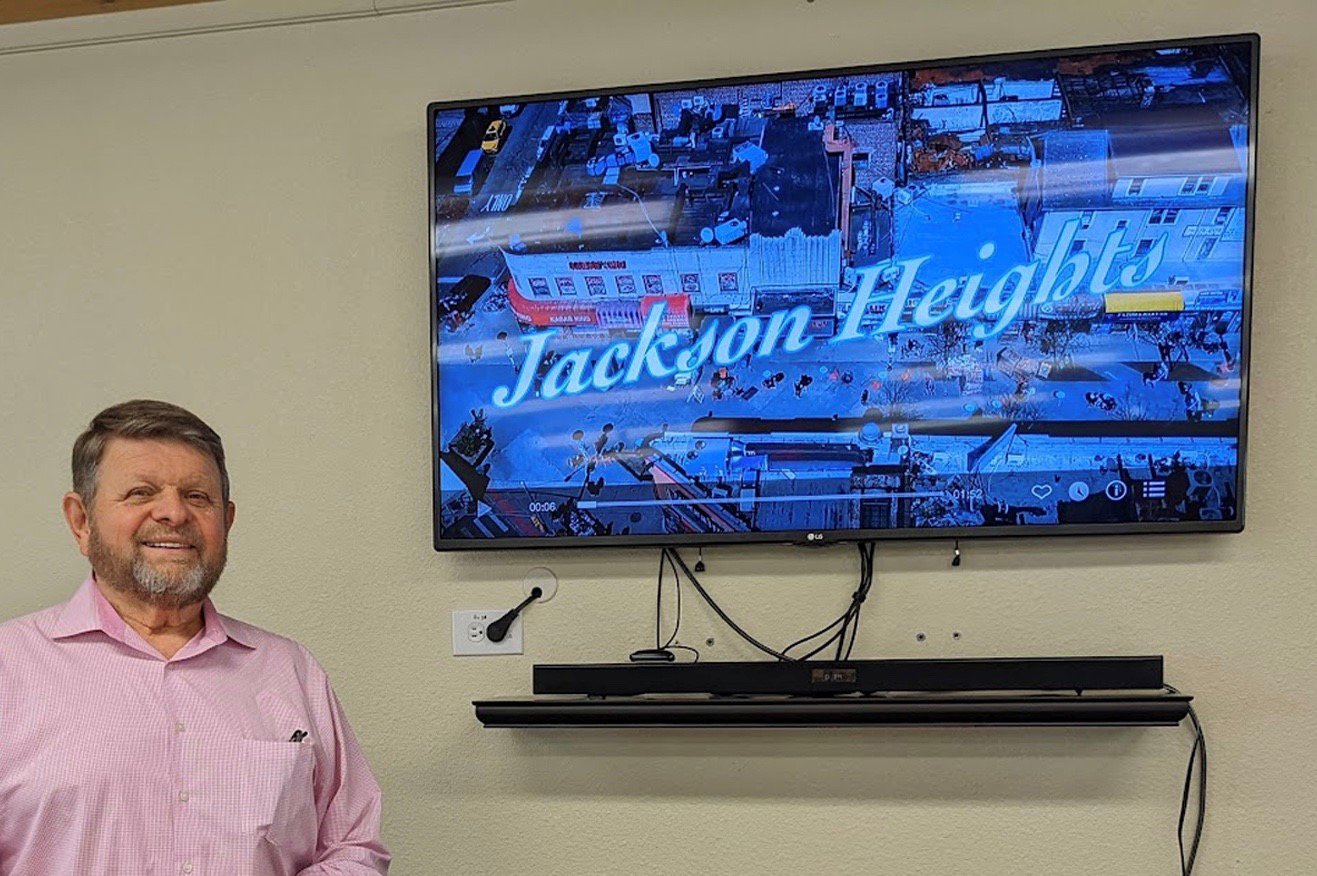 WOM also learned about the youth week – Ignite – held each year. In addition, the Jackson Heights church sponsors a Back-to-School Bash, during which children can play games, have their faces painted, have refreshments, and receive a new backpack filled with school supplies, and Explore Day Camps, which are similar to a Vacation Bible School experience.
"The thing that makes all this worth it are the baptisms," said proud father Jim and mother Teresa. WOM witnessed the baptism of three people, one being formerly Hindu and one Buddhist. WOM learned about a Nepal convert who, when he went back to Nepal, was instrumental in translating the Bible into the local language. Jim noted that Jackson Heights forms relationships with the local residents through English as a Second Language and citizenship classes as well as the activities cited above. Their outreach involves, among others, resident Muslims, Buddhists, Hindus and Sikhs.
"Jackson Heights Community Church is a thriving, living, body of believers," Jim concluded.
Calling all knitters and crocheters!
Nancy encouraged those who knit or crochet to begin making blankets for children who are removed from homes with dangerous situations. WOM will be collecting new clothing for infants through age 18 (particularly under clothing), along with blankets, stuffed animals, etc., to present to the WOM speaker in December who will share about the Isaiah 1:17 house.
Coming In July
North American Mission Board missionary will speak to Women on Mission in July. She and her husband, Bob, who live in Mooresville, NC, serve in the area of church renewal. Phyllis attended Mitchell College in Statesville, NC, and Central Piedmont Community College in Charlotte, NC. Phyllis and Bob served as Mission Service Corps missionaries for the Baptist State Convention of North Carolina for 17 years and then for NAMB three years before their current position. Phyllis has served as a Girls in Action leader, an Acteens leader, Women's Missionary Union director, and co-president of North Carolina WMU. Phyllis has led women's retreats in South Africa, Germany, and Wales.
It's a Camp Pinnacle summer!
Women on Mission are sponsoring 18 girls and two mothers at Camp Pinnacle in June and July this summer, the most ever sent out by First Baptist. Camp Pinnacle, in Clayton, is owned and operated by the Baptist WMU of Georgia and is Georgia's only missions-focused camp for girls.
Girls attending the week-long camps are Torrence Cannaverde, Chelsea Stanley, Izzy Stanley, Riley Kate Allison, Aeryian Cline, Zoey doCarmo, Abiagaele Shields, Charity Roderick, Addison Keough, Emma Keough, Eula Wells, Ember Shields, Lilac Shields, Lillie Cook, Laycee Cook, and Laney Cook.
Participating in mother/daughter weekends will be Jennifer and Trinity Neville and Susan and Katie Stanley.
---
Ongoing Activities
In cooperation with the Atlanta Dream Center, WOM are writing messages of encouragement that can be handed out to young women who are being trafficked in Atlanta. WOM also supports Hope House of Union County by collecting personal hygiene items such as shampoo, body wash, deodorant, etc., which are distributed free of charge to Hope House clients. Through offerings collected monthly and budget funding from First Baptist, WOM are supporting the following ministries:
Cowboy Church of Jerusalem to purchase food and new boots.
Pure Love Pure Water for more filters to be sent to missionaries.
The Clarkston After-School Ministry, which provides a meal for the children and to purchase supplies for the children.
Missionaries Troy and Jeana Nicholson, whose home in Albania was damaged in a December earthquake.
---
Who We Are
WOMEN ON MISSION have a passion for missions. We meet the second Monday of each month at 11:30 in the Ministry Center. Each month a special speaker is invited to share with us his/her time of ministry on the field, whether it be overseas or here in the United States. We have heard speakers from Russia, Albania, Turkey, Peru, Honduras, Tanzania, and many other places around the globe, as well as representatives from the ministry to refugees in Clarkston, GA, Out of Darkness Ministry in Atlanta, Voice of the Martyrs, and many other U.S.-based mission groups. We each receive a blessing from hearing the testimonies of these speakers. Often we learn of ways we can be involved in reaching out to the lost through these ministries.
Be a part of WOM
WOM supports a different missionary each year by sending them a monthly love gift. We also save and collect our loose pocket change to provide water filters for missionaries who do not have access to potable water. Periodically, we provide toiletry items which Hope House of Blairsville can share with its clients. As the Lord leads, we engage in projects which help missionaries or reach out to the lost. In all that we do, we aim to bring glory to our Lord and Savior, Jesus Christ.
We encourage you to come and join us on the second Monday of any given month. Participation is open to ALL women — young, old, or in between.
If you have questions, feel free to contact Nancy Brock at untilhisreturn@gmail.com or 706-781-6358 for further information.
---