Services and On-Campus activities Update
We are slowly returning to on-campus services and activities. Please check our FBC Updates page for detailed information about the timeline for our reopening and the steps we are taking as a church to stay safe through this process. Thank you!
---
Coming in September
On Monday, Sept. 14, Women on Mission will have the opportunity to hear about work that is being done in our own community. Julie Mashburn will share about SAFE (Support in Abusive Family Emergencies). This ministry in Union and Towns counties provides support, advocacy and emergency shelter for victims of domestic, child, and sexual abuse, regardless of gender and regardless of their home of origin. SAFE is funded by grants and develops for each client a 90-day case plan that includes employment, budget, finance, and childcare. When leaving the shelter, clients receive move-out vouchers for furniture, food, and supplies. SAFE makes counseling and court advocates available for adults and children. WOM will meet in the First Baptist Ministry Center at 10:30 a.m. and be out by 11:45.
August Update
Women on Mission resumed their monthly meetings on Aug. 10 with a presentation from Serving in Mission (SIM) missionary Kelly Reeves, who was accompanied by her daughter Mikayla. SIM is an international, interdenominational evangelical Christian mission organization established in 1893. SIM has more than 4,000 workers serving in more than 70 countries.
Michael and Kelly Reeves spent the first 10 years of their marriage in the U.S. military feeling led to mission work. When the time came for them to enter missions, two of their children were in their teens, so they could not go overseas with the Southern Baptists' International Mission Board. Instead, they found a place with SIM and went to Ecuador in 2015 where they assisted with a cafe youth ministry which ministered to those who did not have a safe place to go.
Kelly told WOM their first year was spent learning the Ecuadoran culture and the language. They found that the biggest problem was disunity among the leadership team. To address this problem, once a week the Reeves hosted dinner in their home, and once a month they hosted a team meeting.
An earthquake disaster prompted the couple to become part of a trauma healing ministry and spend time rebuilding homes as well as helping people cope with such questions as "If God loves us, why do we suffer? How can the wounds to our hearts heal? How can we properly grieve?"
After three and a half years in Ecuador, the Reeves family returned to the United States for several months. During this time, Kelly said the Lord opened up mission opportunities for them here in the States. They are currently living in Charlotte, NC, where Kelly serves as administrative assistant to the SIM director of trauma healing. Michael does security training for SIM missionaries before they go out to the field.
Kelly said both she and Michael are open to what the Lord wants them to do next, even if it means going back to a foreign country.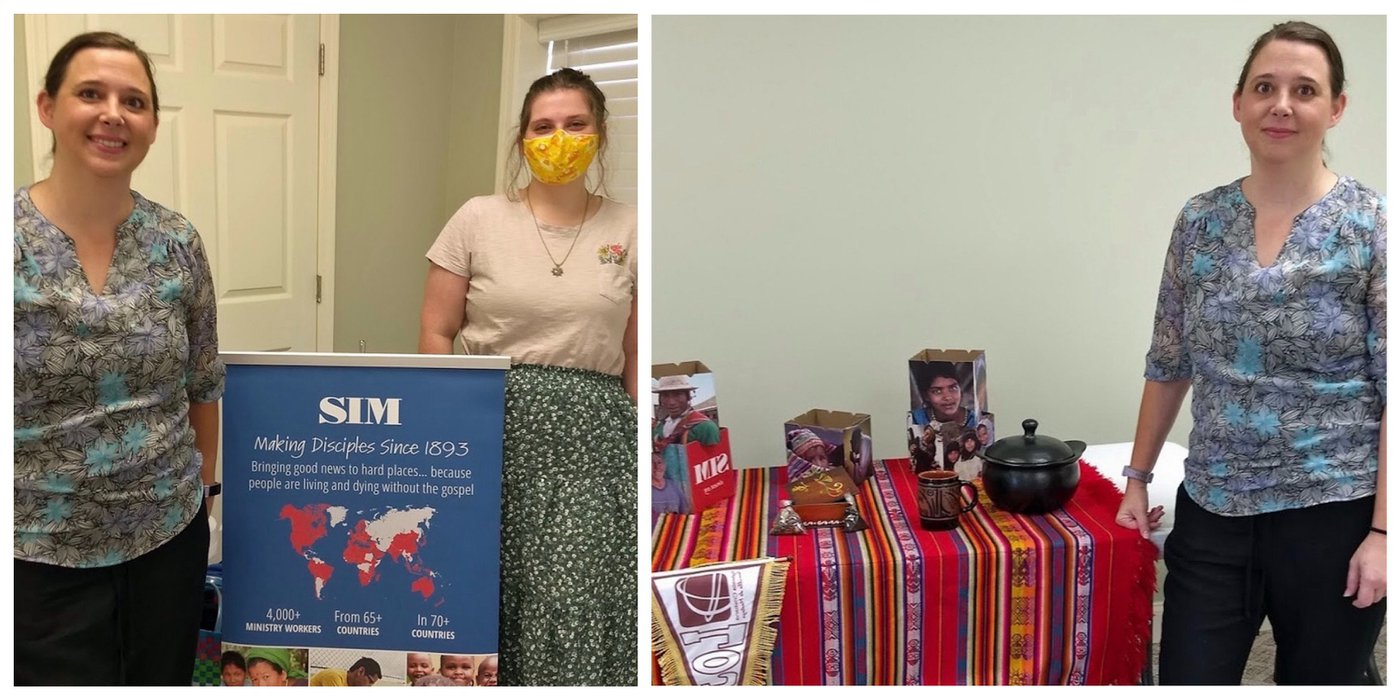 Upcoming Events
In October, WOM will be doubly blessed to have David and Diana Daniels, former missionaries to Uruguay, speak at the monthly meeting on Oct. 12, and then on Oct. 24 WOM Director Nancy Brock will host a time of sharing with Luke and Rachel Carter at her home. The Carters are in the United States until Rachel delivers their daughter the first week in December. WOM are invited to come at 10 a.m. for the presentation on the Carters' work followed by "Birth" Day cake. In order to have the room set up for social distancing, please RSVP by email to Nancy at untilhisreturn@gmail.com or call (706-781-6358) if you plan to attend.
On Nov. 7, WOM will be taking winter clothes and household items down to Clarkston for the refugees, along with gift bags for the moms, and bags for each child. WOM is still accepting donations of rice, pasta, and dried beans, along with small toiletry items. WOM who feel led to help provide these things, along with healthy snacks for the children, are asked to bring them to the September and October WOM meetings or contact Nancy about donations. Each bag for moms and kids will include a spiritual bracelet and other items to let them know that Jesus loves them.
---
Who We Are
WOMEN ON MISSION have a passion for missions. We meet the second Monday of each month at 11:30 in the Ministry Center. Each month a special speaker is invited to share with us his/her time of ministry on the field, whether it be overseas or here in the United States. We have heard speakers from Russia, Albania, Turkey, Peru, Honduras, Tanzania, and many other places around the globe, as well as representatives from the ministry to refugees in Clarkston, GA, Out of Darkness Ministry in Atlanta, Voice of the Martyrs, and many other U.S.-based mission groups. We each receive a blessing from hearing the testimonies of these speakers. Often we learn of ways we can be involved in reaching out to the lost through these ministries.
Ongoing Activities
In cooperation with the Atlanta Dream Center, WOM are writing messages of encouragement that can be handed out to young women who are being trafficked in Atlanta. WOM also supports Hope House of Union County by collecting personal hygiene items such as shampoo, body wash, deodorant, etc., which are distributed free of charge to Hope House clients. Through offerings collected monthly and budget funding from First Baptist, WOM are supporting the following ministries:
Cowboy Church of Jerusalem to purchase food and new boots.
Pure Love Pure Water for more filters to be sent to missionaries.
The Clarkston After-School Ministry, which provides a meal for the children and to purchase supplies for the children.
Missionaries Troy and Jeana Nicholson, whose home in Albania was damaged in a December earthquake.
Be a part of WOM
WOM supports a different missionary each year by sending them a monthly love gift. We also save and collect our loose pocket change to provide water filters for missionaries who do not have access to potable water. Periodically, we provide toiletry items which Hope House of Blairsville can share with its clients. As the Lord leads, we engage in projects which help missionaries or reach out to the lost. In all that we do, we aim to bring glory to our Lord and Savior, Jesus Christ.
We encourage you to come and join us on the second Monday of any given month. Participation is open to ALL women — young, old, or in between.
If you have questions, feel free to contact Nancy Brock at untilhisreturn@gmail.com or 706-781-6358 for further information.